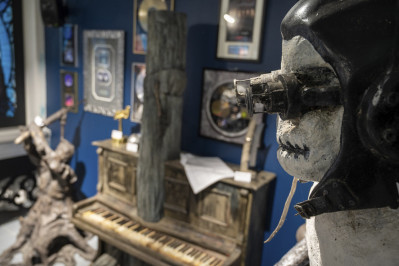 A Nightwish Story virtual exhibition
We bid you welcome to an adventure unlike any other. From so simple a beginning – a humble mood music project put together by a dreamer and his friends here in the tiny hamlet of Kitee, Finland – was born a metal phenomenon with a fanbase that blankets all corners of the world, all ages and of all walks of life. Now you are able to be amazed of this incredible story from the comfort of your own home. In this virtual experince you will be able to see the exhibition space and all the items it holds. The exhibition is open just when it is most convenient for you.
The exhibition has two different floors. Each floor has rooms with different themes. You are able to see all kinds possible Nightwish memorabilia there is – from Nightwish themed products to their demo tapes or music video props. On the other floor you are able to see band's instruments through the years. 
The exhibition is only available in English at the moment. To make the most of your virtual Nightwish Story experience, you should use your tablet or computer, even though you can also visit the exhibition by phone.
Enter to the virtual exhibition from here.
Ticket prices
Ticket prices vary based on the days you want to have an access to the exhibition:
6,90 euros / 2 day access (normally 8,90 €)
12,90 euros / 5 day access (normally 14,90 €)
Discounted priced are valid until further notice. So take a good position on your couch and enjoy your visit without any queuing.
Payment methods
You can pay for your visit with Visa, Mastercard or American Express cards or PayPal. Also Finnish bank and mobile payment options are available (for Finnish customers).
--
This virtual experience was made in a collaboration with 360Finland.
More information: nightwishstory(at)gmail.com.
Kitee Tourist Information:
matkailuneuvojat(at)kitee.fi
+358 401051021
Saved cart deleted
[CART NAME]
OK